Boost your conversion by
5-10% within 1 hour using proven

words that sell

.
Supercharging sales and marketing copywriting
The solution presented by advaisor [...] went much further than we expected. I am convinced that the tool will support us in [...] everyday life in the best possible way and will relieve us of a lot of work in the context of quality management.

Head Customer Satisfaction, Basler
Case Study: Improving customer comms
Quality in managing customer inquiries
Before state
​
Language guide and communication support for agents

Training / coaching of new people is very time-consuming (4-6 weeks)

Manual 4-eyes quality control by team leader

Recently high fluctuation, knowledge & experience was lost in the team

Quality of request handling was highly dependent on employees, not the process
After state
​
Quality measurable in written customer interaction

Automated consistency with language guide

4-eyes quality checks by machine
​
Time
​
Our partners love us
(and we love them, too)
« [...]I like the advaisor software. It supports an inclusive language – directly when you are writing. It gives an alert when you use non-inclusive words and increases your awareness of the topic.
Try it out! »
Prof. Dr. Gudrun Sander
Director of the Competence Centre for Diversity & Inclusion
University of St. Gallen
« In recent months, we all had to adapt to a more digital world – a world in which good online customer service is becoming massively more important. Thanks to advaisor AG's AI-based solution – which analyses text for interaction and provides immediate feedback and suggestions for improvements – organisations can immediately make a positive impact on customer experience and satisfaction. This has not only impressed us, but also some large Swiss companies [...] »
Andrew Reid
Head of Startup program Microsoft Switzerland
How you benefit
Improve copy, convert
5-10% better
Boost conversion using proven words that sell

Transform your copy to a clear and engaging sales machine

Be the brand that customers

remember
Create converting
content 20-50% faster
Don't waste time guessing what message converts

Free up time to work on relevant tasks, not copy

Stop wasting time bothering colleagues to doublecheck your copy
Find out what copy works
before

testing it with customers
No shooting in the dark: learn what converts while writing

Have copywriting expert knowledge at your fingertips, not in google
Become a conversion superstar
Our customers used to do lengthy writing trainings and enforce language guides. No more!

Highlighting problems: receive real-time suggestions on how to make you copy clearer, more engaging, and converting.
Spot conversion issues in a blink of an eye
Our customers used to manually check copy over and over with colleagues, peers and experts. No more!
Check quality in all your scripts, messages or templates in seconds. Prioritize and collaborate on documents that don't reflect your quality standards.
Make sure clients love you
Our customers used to do peer-to-peer reviews and manually fix sales scripts or marketing copy. With advaisor, they have the confidence that their copy will make the client happy.
Make your publishing efficient and guarantee that every message you send is excellent and converts - even from new employees or copywriters.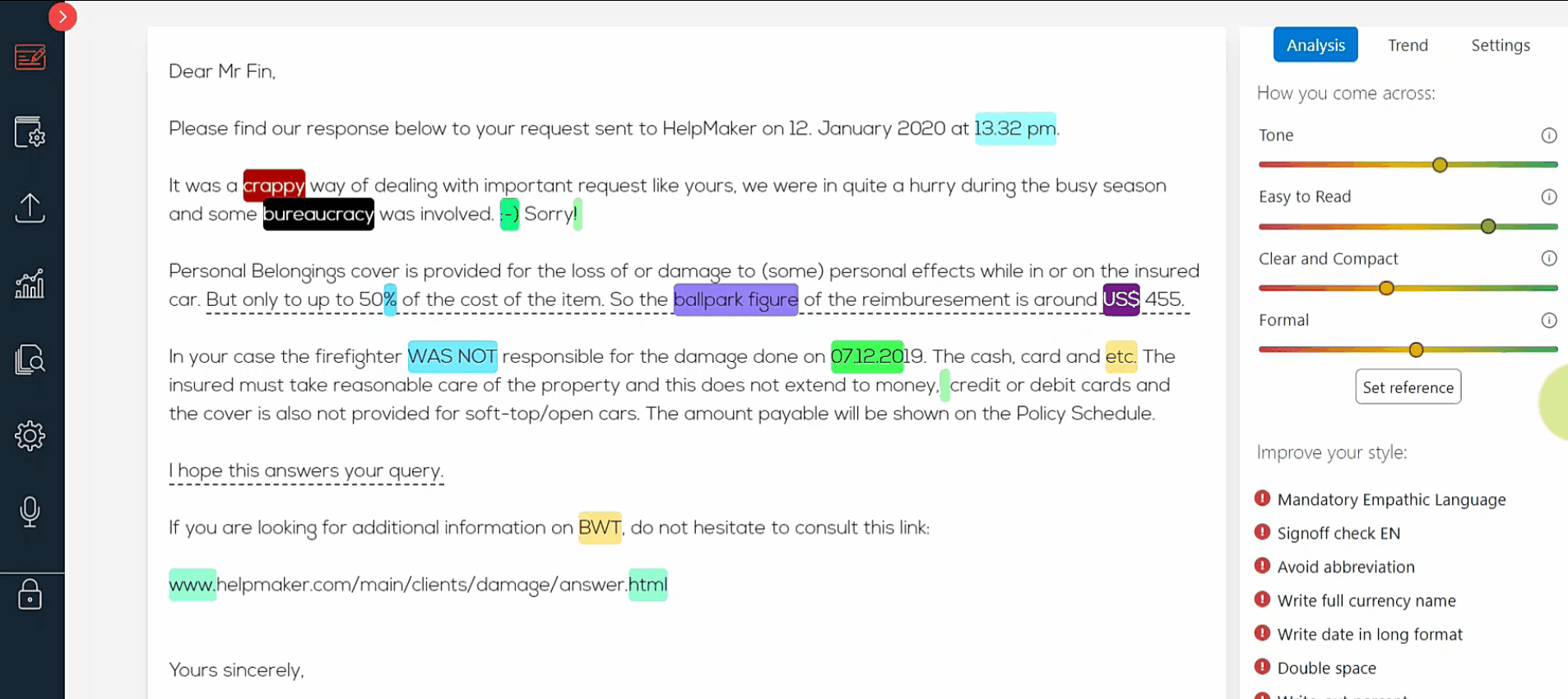 Other useful material
Click to download
Awards
National and international recognition