We help customer services to improve communication quality.
We automate your quality control. You manage the customer experience.
The solution presented by advaisor [...] went much further than we expected. I am convinced that the tool will support us in [...] everyday life in the best possible way and will relieve us of a lot of work in the context of quality management.

Head Customer Satisfaction, Basler
Case Study: Basler Insurance
Quality in managing customer inquiries
Before state
​
Language guide and communication support for agents

Training / coaching of new people is very time-consuming (4-6 weeks)

Manual 4-eyes quality control by team leader

Recently high fluctuation, knowledge & experience was lost in the team

Quality of request handling was highly dependent on employees, not the process
After state
​
Quality measurable in written customer interaction

Automated consistency with language guide

4-eyes quality checks by machine
​
Time
​
Our partners love us
(and we love them, too)
« [...]I like the advaisor software. It supports an inclusive language – directly when you are writing. It gives an alert when you use non-inclusive words and increases your awareness of the topic.
Try it out! »
Prof. Dr. Gudrun Sander
Director of the Competence Centre for Diversity & Inclusion
University of St. Gallen
« In recent months, we all had to adapt to a more digital world – a world in which good online customer service is becoming massively more important. Thanks to advaisor AG's AI-based solution – which analyses text for interaction and provides immediate feedback and suggestions for improvements – organisations can immediately make a positive impact on customer experience and satisfaction. This has not only impressed us, but also some large Swiss companies [...] »
Andrew Reid
Head of Startup program Microsoft Switzerland
How you benefit
Improve FCR by 5-30%
Help your agents to communicate clearly, consistently and be more engaging

Consistent brand voice across channels

Higher service quality level and CX
Reduce AHT by 5-20%
Spot problems in all documents in seconds

Get improvement suggestions in real-time

Integrated performance and KPIs reporting
Reduce training and quality control costs by 50%
Every message sent, is quality checked by AI to be customer friendly

Time efficiency: no peer-to-peer reviews needed

Reduced agent training costs and offline time by up to 50%
Make every agent a communication superstar
Our customers used to give lengthy trainings and enforce language guides for their agents. The advaisor solutions reduces up to 50% of training and quality control budgets:

Highlighting problems: your customer service agents receive real-time suggestions on how to make their communication clearer, more engaging, and consistent with your company's brand voice. This improves the customer experience measurably and reduces costly follow-up questions.
Spot text quality issues in a blink of an eye
Our customers used to manually check customer communication for quality issues and create trainings to address them. With advaisor, you can check all communication before it's sent out.
​
Check quality of thousands of client templates, letters, or other documents in seconds. Prioritize and collaborate on documents that don't reflect your quality standards and measure improvement reliably.
Control communication quality centrally, using a digital style guide and AI
Our customers used to do peer-to-peer coaching and learn language guides by hears before allowing new employees to write with clients. With advaisor, they have the confidence that new employees can talk to clients right away and leave a great impression with the customer.
​
Define what quality aspects are important to you and what your brand stands for. Define quality guidelines digitally, allowing all communication to become compliant and elegant, across channels, at all times. Make your quality management efficient and reduce training costs and onboarding time for your customer service agents.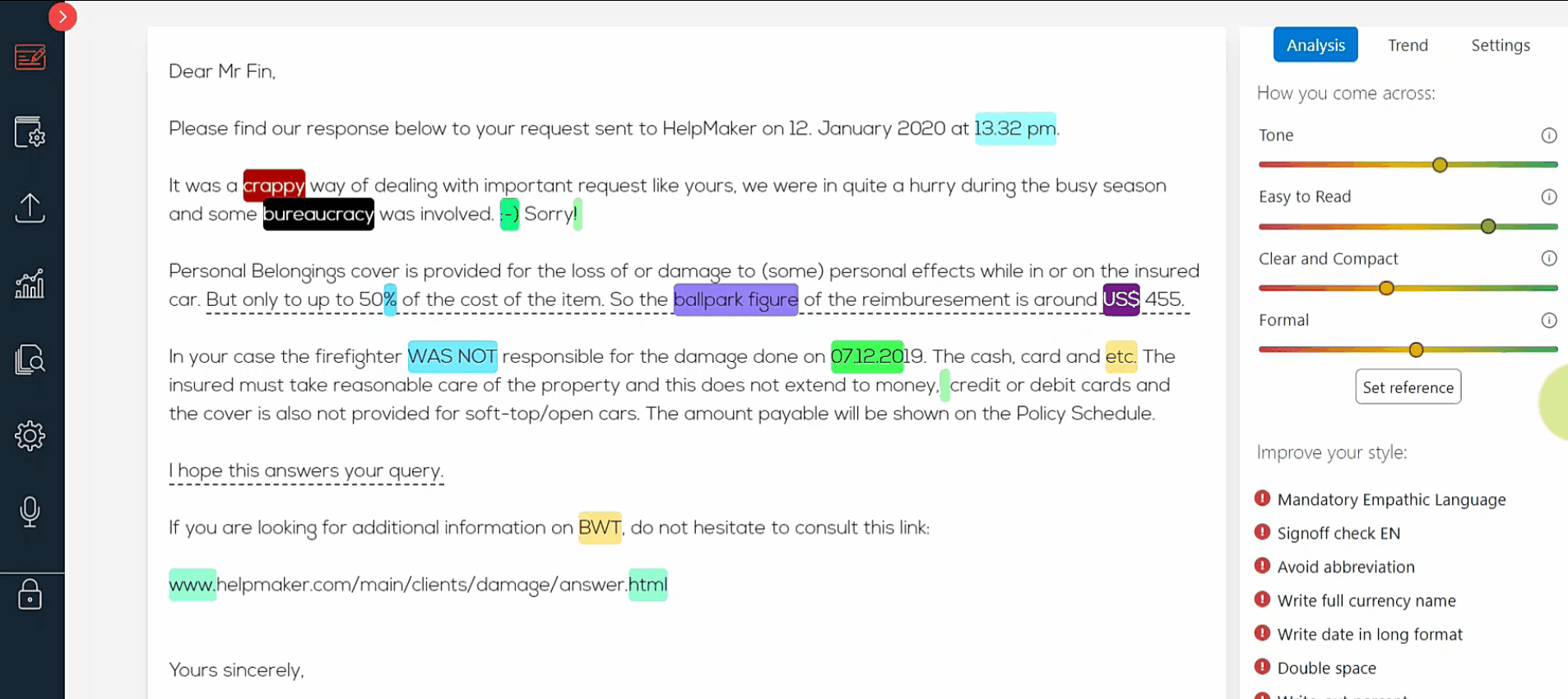 Offering
Essentials
5 users
Digital language guide
Text analysis
Real-time editor
Document bulk processing
Enterprise ready
Full
Essential features
+ Scalable user number
+ Agent & admin roles
+ CRM / Mail Integrated
+ Corporate trainings
+ SLAs
Premium
Full features
+ Voice analysis
+ Unlimited text analysis
+ Unlimited custom alerts
+ Brand specific metrics
+ Multiple persona settings
Improving quality - get started
Click to download
Awards
National and international recognition